I got an email a couple of weeks ago announcing that Anthropologie is coming out with their own wedding line. The promo photos on their website are beautiful and I finally got my hands on some photos of their gorgeous dresses. This is no doubt going to make some brides very happy. I have a love-hate relationship with anthropologie. Their stuff is so pretty, but so they are so expensive, but still so pretty, but not always the best quality... but so so pretty. See?
I am fresh off a recent fail, because the belt that I bought (with a gift card, therefore guilt-free) kept popping off every time I took a deep breath. I got to return it (they do have great customer service because they did it with no receipt and no questions asked), but I was bummed and kind of irritated because it was a $50 belt! It's the kind of item you are embarrassed to tell someone how much it costs.  I know it wasn't just my belt, because my bff got the same one in a different color and has the same issue. If I am going to spend that much on a belt, I want it to stay snapped dang it. But, I digress.
What was I talking about? Oh yes. Anthropologie does weddings.... The line is called BHLDN, which you pronounce 'Beholden' (so says google), and it debuts on February 14th. I think it's super smart of them to do this, and am sure it will do awesome, regardless.  I mean look at them. They are so gorgeous...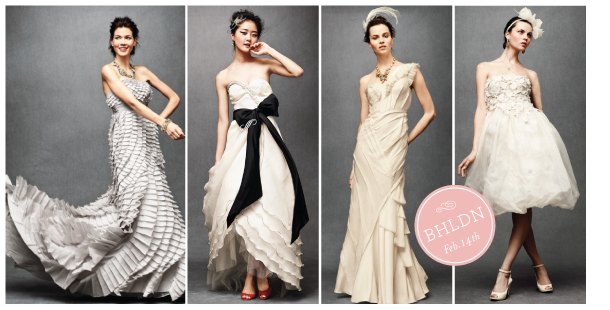 and so my love/hate affair continues.
sneak peek photos from glamour.com.