Happy Friday! I have a fun new thing happening today. After meeting Kerry Doyle, of Paper Dahlia through Minted, I became a fan of her style blog, Super Swoon. Kerry and a group of font-loving gals (Jenna from Little Bit Heart, Lauren from Lauren Elise Crafted, Steph from Bubblerock, Jenny from Hank + Hunt, Kerry from Super Swoon, Jen from Blush Printables and Alexandra from The Aerialist Press) do a weekly post called Font Friday. I enjoyed it so much that I thought I'd join in on the fun. So from now on, fonts will be getting their own weekly post! I know. Try to contain your excitement.
For my first Font Friday, I thought I'd go with a font I love and have been eyeing for awhile now... Candy Script. With a pretty hefty price tag of $99, this typeface is on the pricier side (and yes, they do get more expensive!) and I haven't shelled out the cash for it...yet! After doing this post, I really want to get my hands on this one.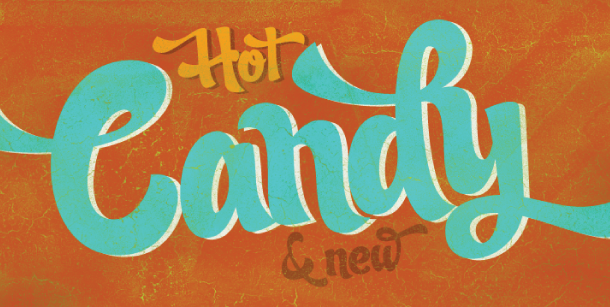 Candy Script is designed by Alejandro Paul, who also designed so many of my favorite fonts, Burgues Script, Business Penmanship, Adios, Feel, and the list goes on and on. He is amazing. Clearly.
Here's a little blurb about Candy Script from Veer:
Inspired by Argentina and its culture, Alejandro Paul's Candy Script captures the country's spirit. It comes from the tradition of window sign painting, but its thick hand-brushed characters - with alternates for almost every upper and lowercase letter - have a personality all their own. Tons of OpenType alternates included, over 600 characters in all.
You can purchase this font here and if you are interested in reading a little bit more about Alejandro Paul, check out this interview with myfonts.com. Happy Font Friday!