One of my favorite features in magazines (and actually doing in life) is finding 'the look for less'. Nothing is more fun that snagging an expensive look-a-like for a sweet deal. I am a big fan of shopping and clothes and while I think you definitely get what you pay for (in most cases), at the same time, not everything is worth spending the big bucks. When it comes to clothes, more often than not, you will find me in the more affordable outfit, but when it comes to fonts that is just not the case. I have no self control! If I want a font, I pretty much have to buy it. However, you can almost always find a decent replacement for the best typefaces... and so, for those of you who think spending any money at all for a font is crazy, this post is for you!

One of my favorite fonts of all time is ARCHER. It's just one of those beautiful typefaces that can be used in so many different ways. If you think you aren't familiar with it, think again: do you bank at Wellsfargo? Archer is all over their site and materials. Have you ever read anything Martha Stewart? Archer was originally designed for the magazine. Not to mention, it's what I used in the Palm Papers logo, so you've at least seen it there! For as pretty as it is, it costs about as much. The entire collection will set you back a pretty penny... it's expensive.
I have the perfect substitute though!  Check out Museo Slab.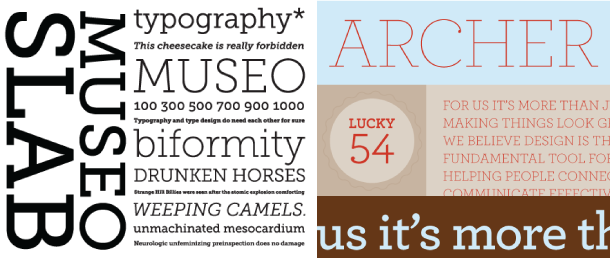 The best part, is that Museo Slab can be downloaded for FREE! Of course, you can only download one weight for free, but all the others are only $16.50 each, or you can purchase the entire family of 12 fonts for $99. Compared to $400, it's a pretty darn good option.
However, if you are still heading over to purchase archer, or are like me and already own it... don't worry. No one is here to judge. You are definitely not alone.
For more font love, don't forget to check out the picks of my favorite font friends: Alexandra & Craig from The Aerialist Press, Allison at Allison Owen Design, Jen from Blush Printables, Sophia and Andre at Brancoprata, Steph from Bubblerock, Catherine at Design Editor,  Laurel at Go Against the Grain, Jenny from Hank + Hunt, Allie at Honey Bee Invites, Lauren from Lauren Elise Crafted, Jenna and Elizabeth from Little Bit Heart, Kerry from Super Swoon  and Wendy at Weswen Design (#fontfriday on twitter)