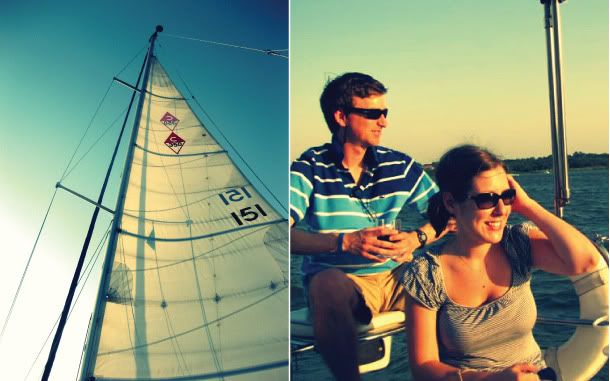 My husband was in the process of getting his bareboat charter license, when he realized that maybe it was a good idea to see if I actually liked sailing before we invested in the fact that we would be spending entire vacations on a boat. He had the idea of going out on a local lake, so we booked a sunset sail on Lake Grapevine over the Memorial Day weekend.
The verdict? I loved it! We went out with Captain Bob of Tranquil Sales, and his wife, 'First Mate Kate', who was the sweetest lady. (She taught me little ways to remember the sailing lingo - I am going to be the best sailor's wife).  I was actually surprised at how fun it was to sail on a lake. To be honest, my expectations were a little low, but it was in the evening and not a lot of people were out on the water and it was really relaxing and enjoyable. We brought wine and had plenty of wind and a beautiful sunset. It was one of those times when you forget you are only 30 minutes from home.
This won't be the last sailing photos you see on this blog. We already have plans to sail two more times this summer and before long, I may be assisting instead of sipping wine. Oh - who am I kidding. Carter can handle it all.