Last week, I was lucky enough to spend 4 days in New York City attending the National Stationery Show. For those of you that don't know, the National Stationery Show is a tradeshow for the wholesale stationery industry with exhibitors ranging from independent design studios and big stationery companies to printers and paper suppliers. To put it simply, it was paper heaven and if the idea of attending this show bores you to tears, below are some instagram photos that will give you a nice quick overview. Keep reading if you want the play-by-play...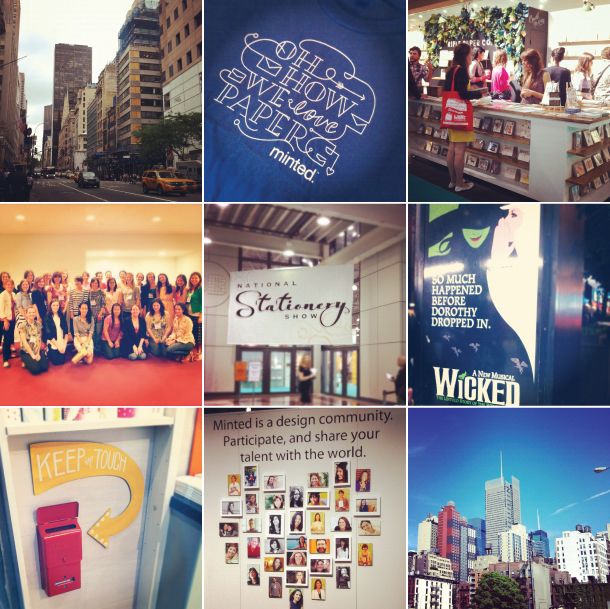 The show was Sunday through Wednesday, but if you are interested in attending, you just need to figure out what events you want to attend and plan accordingly. Everyone seemed to be coming and going at different times throughout those days and you don't need to be there for the entire time (unless you are exhibiting of course!) You can probably walk the actual show in a day if you needed to, but we leisurely walked it in about a day and a half and I thought it was perfect. Between walking the show, seminars and meetings, I was still able to catch a broadway play and shop a bit. I've been to New York many times, but whether you have or haven't - you might as well take advantage of being in the city. But I digress.... back to the show.
A little by planning and a little by chance, Kimberly FitzSimons, Lesa Abney, Laura Hankins and I all stayed at the Hilton Times Square and decided to head to the show together. The first day, we spent a lot of time on the supply side of the show. There's a large portion of printers, paper suppliers, etc. that design studios like myself, could use to fulfill orders. I got a ton of information (and even more samples) from these type of vendors, many that I would never have learned about otherwise. Minted actually had booth this year and we made a beeline for it the moment we got there. It was so fun chatting face to face with the Minted team!
L to R: Me, Jen (Minted), Lesa, Laura, Kimberly, Alison (Minted) and Natasha (Minted)
The other section was all the design studios exhibiting their wholesale lines. They were AMAZING. From the greeting cards, to the invitations, to the booths, you could tell how much thought and creativity was put into every aspect. I was so glad to experience it, because after being there, I know that wholesale is not for me right now (I didn't think it was, but it helped confirm my initial thoughts about it). If you think you might be interested in wholesale, I definitely recommend attending before you jump in. There's something about being there that you just can't get from photos.
When we weren't walking the show, we filled our evenings getting to know the other Minted designers that made the trip. We knew there would be small group on Sunday, so Kimberly organized a casual happy hour at our hotel bar. We probably had about 20 people there, but we didn't whip out the camera until the end, but thanks to those who came. I loved meeting you!
L to R: Front - Laura, Lesa, Jackie from Believe Notes, Alston from B.Wise Papers. Back - Meg from Moglea, Kristie Kern, Kimberly, and me
Minted hosted a party for us on Monday evening and if you can believe it, this photo below isn't everyone! It was a big turnout. Between emails, forums, blogs and Facebook, I feel like I know these ladies and it was so fun to meet them in person, hear their voices and learn their personalities. It's hard to know much from a tiny, 2 inch photo! (Turns out, people thought I would be much taller! To say that I am 5'2" might be a bit of a stretch, so Rachel must be one talented photographer to make me look otherwise!)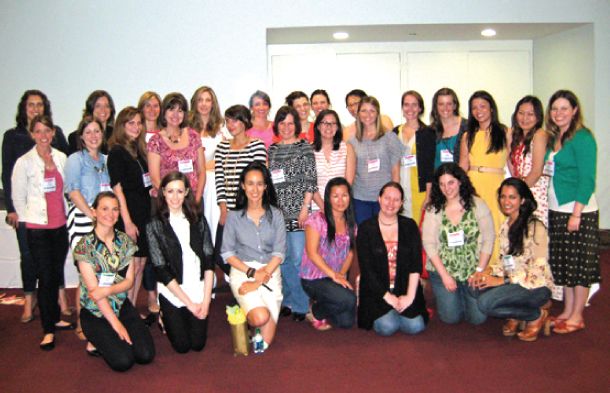 Meeting everyone was definitely the highlight of my trip! I would not be doing what I am today without this company and design community, so getting to spend time building friendships with the people behind the tiny photos and emails was priceless and I am so grateful for the chance to attend. I hope that I can make it again next year.
Note: All the non-Instagram photos are from the wonderful photo-taker in our group, Kimberly. She also has a fun recap of the show on her blog. Thanks Kimberly!