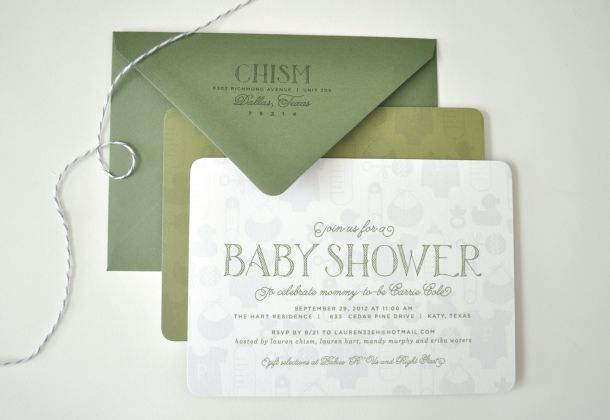 This weekend, I threw my second baby shower of the month for my best friend, Carrie, who is welcoming baby Parker in December. You might remember my Minted party decor submission a few weeks ago, that was inspired by these invites, and I finally snapped some photos to share the actual invitations. (I am sure the suspense has been killing you!)
We didn't have a theme, but I wanted it to be tied into her nursery, which will have olives and greys. And of course, I couldn't just do regular invitations - I had to add a little something (or several somethings) to make them special. I used olive envelopes, striped liners and tied each one with twine and a tag suggesting guests bring a book for Parker's library.
At the shower, there were more paper goodies: a banner, food/drink signs and little book plates for all the books that people brought.

It was one dreary weekend in Texas, but we had a fun time and I wrapped up my baby shower hosting duties for the year. Now we just get to wait patiently for the arrival of all the babies! I am so excited!