Last week, a group of Dallas Minties, new and old, gathered at Times Ten Cellars for a little meet-up. It was the perfect, intimate setting for all of us to chat over some wine and cheese. There are actually a nice number of active Minted designers around Dallas, and we had a great turnout. It's hard to get everyone together at once, so when one night worked for everyone, it was just meant to be!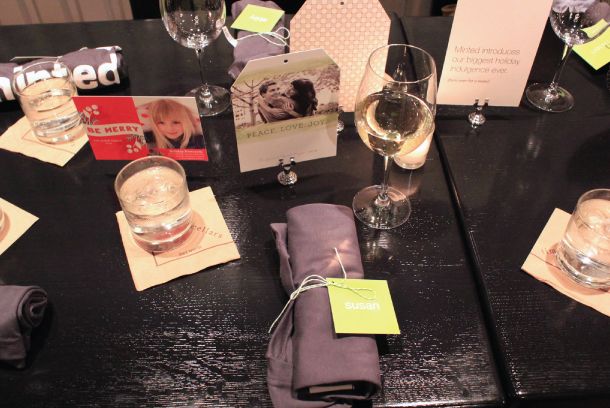 Minted sent me some t-shirts to pass out, so I tied them up with name tags and used them as a place card of sorts.
They also sent tons of samples, showing off their new holiday designs, triple thick paper and new die cut shapes. We all enjoyed admiring our fellow Minties' gorgeous work.
Here I am with our very own Mintie Mentor, Ann Gardner and Rebecca Bowen.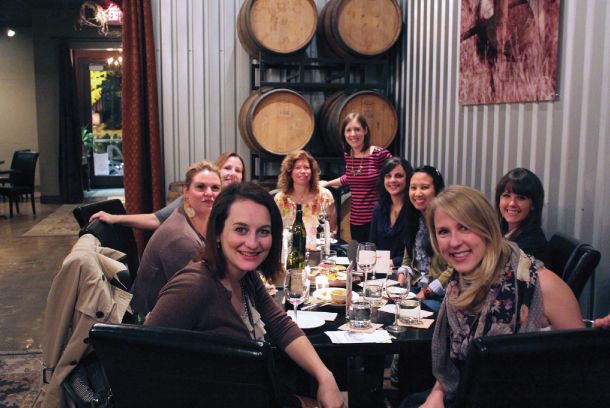 The whole group (clockwise from the front): Jill Efrussy of Stamped Paper Co., Annie Roche of 5by7 Designs, Susan Asbill, Ann Gardner, Me, Rebecca Bowen, Vivien Jordan of The Eclectic Press, Lesa Abney of Paper Nest by Lesa, and Abigail Luby of Chips and Salsa Designs.
Thanks to all the designers that came out! I am so grateful to be part of this design community. We all share the same passion for design (and obsession with Minted) and everyone is so kind and supportive. I feel like we all bonded and established some great friendships in just a few short hours. I'm already excited to plan for our next meet-up in the spring!