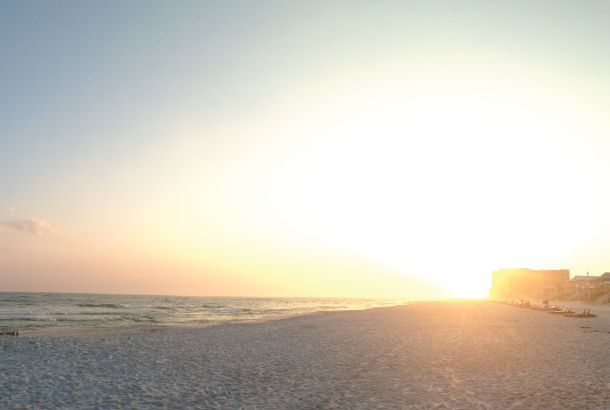 Last week, we took off for the emerald coast of Florida for 7 days of rest and relaxation with our best friends and their baby. Though the weather teased us a bit (it wouldn't be a vacation with Carter and I without a tropical storm lurking) but after one rainy day, it was sunny skies the rest of the time. Carillon Beach is near and dear to my heart (we were married there) but each time I go back I fall more and more in love with it. It's quiet, peaceful and beautiful, with irresistible sunsets and soft white sand. It's close to fun beach towns with great restaurants but far enough away that it seems like it's an amazing secret that no one else knows about. It feels like you have the beach to yourself sometimes. (and sometimes you really do!)
My best friend, Carrie, who lives way-to-far away in Houston, had a baby last year, and I loved getting to spend time with them every day. We even had a grandma on hand to steal a few nights out as adults. It was just the right temperature - warm but comfortable evenings. Good times with really good friends!
My favorite restaurant on 30-A, George's in Alys Beach
I love my iphone and instagram, because it has made me photograph things more, where normally I wouldn't have taken many (or any) pictures. These are a few of my favorite insta-photos from the week.
Top: just arriving in Carillon (we look pretty darn good for spending 12 hours in the car), sunset drinks in Seaside, our view at dinner - Caliza in Alys Beach) Center: Our first sunny-ish day on the beach, the gorgeous Carillon dune walkovers, my cute date Bottom: the cutest little beach bum you ever did see, our spot on the beach, our house 'American Idyll' (all the houses have cute names)
Carter and I have had a crazy May and June, selling our condo, buying a house, doing a little work to the house, packing, and a family wedding thrown in there for just the max amount of busy. Oh, and I run my own business. Stress! This trip, though booked months ago was the perfect time to get us rested up for the big move. Can't wait to share some photos of the new casa!