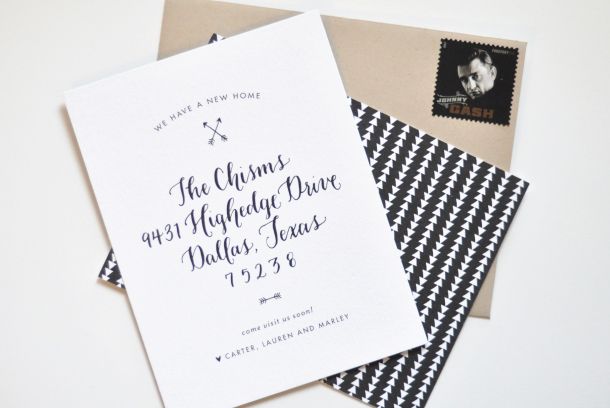 So excited to share these: our own personal moving announcements were featured on Oh So Beautiful Paper today!
As you know, we moved this summer, and not one to miss out on a stationery sending opportunity, I have been thinking about what to do for moving announcements from the moment we bought our house. Typically, I tend to go over the top with my personal stationery projects, but this time, decided on something quick, casual and frankly, affordable, because let me tell you, between the new furniture and home improvements, the announcements might be the only affordable part of this move! (Sorry honey!)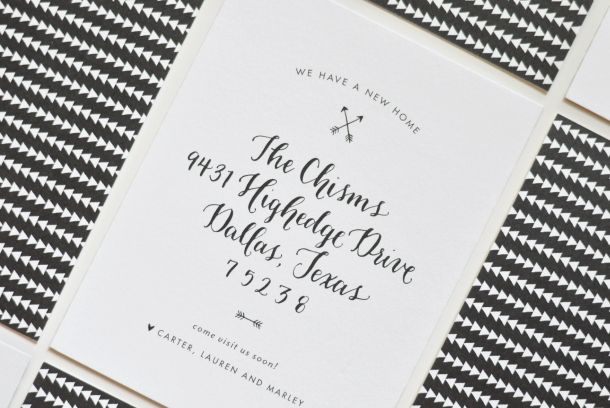 I went with some small flat printed cards, but did include a touch of something special: calligraphy! I had friend, Lauren Essl, of Blue Eye Brown Eye, pen our address for these announcements and for a return address stamp. She is amazingly talented and I loved how her style worked with the rest of the modern feel, but still is super elegant.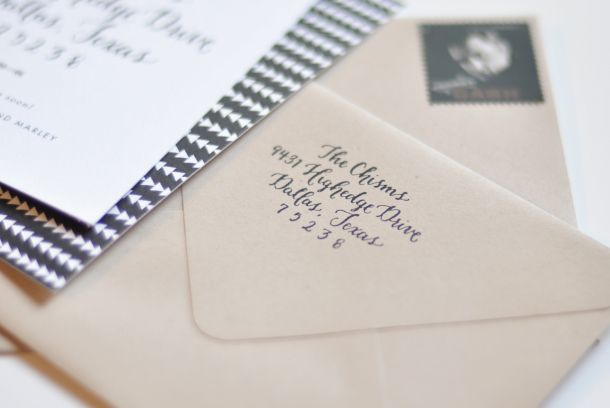 I love sending my mail with coordinating (or just fun) stamps. I particularly loved getting an opportunity to use these new Johnny Cash stamps - gotta love the 'Man in Black'. Did you know that the online USPS store has a way better selection than your local post office? You can find so many fun ones, and they only take a few days to get to you. They are fun, and avoiding the post office all together is just a bonus.
I love how they turned out. Thank you Nole, for the feature!