Lesa Abney and I were destined to be friends, I think. A co-worker told me about a stationery friend of hers, and I went to her blog to check her out, only to see that we were both working for the same stationery company (RIP Indigo Prints). We set up a wine date and after 2 hours of chatting we began to talk about our husbands.Our conversation went something like this: Lesa: "Steve went to UT." Me: "Oh, so did Carter." Lesa: "Was he in a fraternity?" Me: "Yes, he was a Sig Ep." Lesa: "Steve was a Sig Ep!" Well, I knew then that they had to know each other and sure, enough, our husbands were good buddies in college. Small world! A few days in NYC together, double dates and endless dinners and drinks, I feel like I've known Lesa forever. We have so many connections and things in common, I forget sometimes how it is that we came to know each other, but I am glad we did.
Okay, so all that to tell you that Lesa and I are buddies and so, when Lesa asked me to design her baby shower invitations, it was an immediate yes. There may not be a bigger honor than being asked to design for another designer. It's a big compliment, because let me tell you - we are picky customers.
Lesa's theme was 'You are my Sunshine' and she said to do whatever I wanted. So much trust and faith - I am glad I did not let her down. I enjoyed playing with a little type and hand drawn elements. She loved it, and that's all that matters!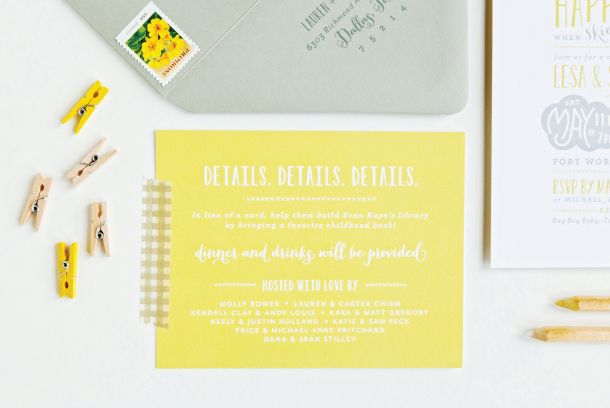 They have since welcomed sweet Evan Kaye and she is 8 months old and a beautiful little model for Lesa's little shop Abneys and Toes. Her blog is also complete cuteness. I have been holding off on sharing them because I submitted an easy-to-customize version to Minted a few months ago. Well, it placed in the top 30 (not something that happens often) and it is now for sale here!