There's no secret that I love handwritten fonts (see here and here), but lately I've been particularly smitten with the fonts from Tart Workshop. Tart Workshop is the collaboration between illustrator Crystal Kluge and typographer Stuart Sandler of Font Diner, and together they create beautiful hand-lettered typefaces.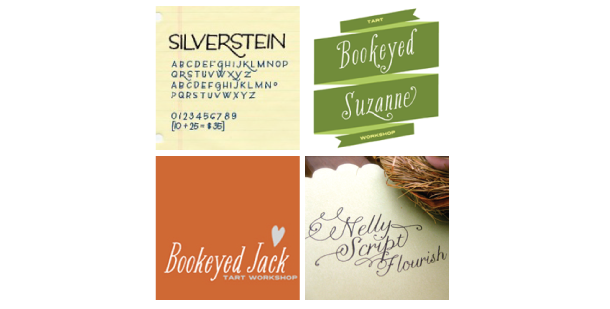 A few of my favorites are Nelly Script, Bookeyed Jack, Bookeyed Susan and Silverstein. While these are no strangers to my Font Friday friends, if you are looking for some new affordable handwritten fonts, look no further than here. With most of the fonts costing about $29.95, they are easy to get their hands on and worth every penny.
Don't have the extra cash? Get a little taste of Tart for FREE by downloading Mountains of Christmas here.

For more font love, don't forget to check out the picks of my favorite font friends: Alexandra & Craig from The Aerialist Press, Allison at Allison Owen Design, Anna from And Everything Nice, Jen from Blush Printables, Sophia and Andre at Brancoprata, Steph from Bubblerock, Cecile of Cecile Paper Lounge, Catherine at Design Editor,  Laurel at Go Against the Grain, Jenny from Hank + Hunt, Allie at Honey Bee Invites, Lauren from Lauren Elise Crafted, Jenna and Elizabeth from Little Bit Heart, Kerry from Super Swoon, Vicki from Vicki Designer and Wendy at Weswen Design (#fontfriday on twitter)