Well, kind of. My first day back to work, was slow, spent mostly in bed with my laptop and a box of tissues. I am on my second cold in the past 2 weeks but hopefully, I'm on the mend. Healthy isn't the word I would use to summarize my break but luckily everyone was healthy enough for all the important stuff. I took just under 2 weeks off and it was much needed and appreciated. No designing, no computer, and very little email and social media. It was pretty great and I'll just blame my cold for my reluctance to accept that the holidays are over. My whole family was in town and we baked, shopped, opened presents, played, drank and ATE. Oh, how we ate! And I'll also blame my cold for failing my first 2012 resolution of working out this morning. I am not sure how serious that resolution was, but it certainly did not happen.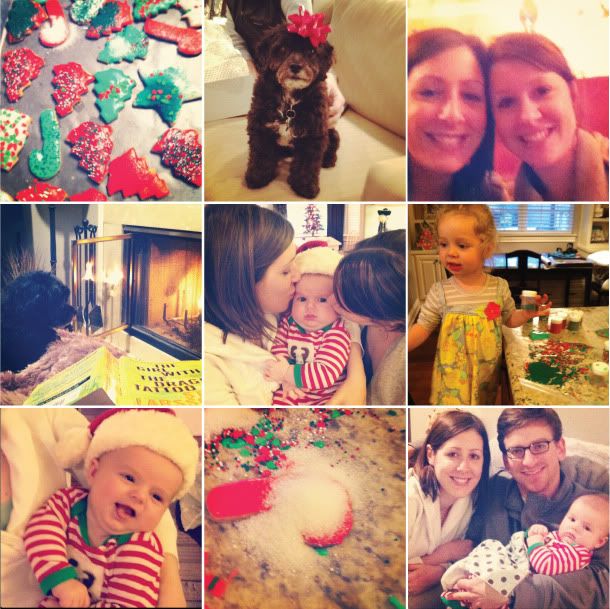 A few highlights... - decorating sugar cookies with my niece. For a 2 year old, it's safe to say that when it comes to sprinkles, more is more. - my cutest little nephew smiling constantly. Babies smiling at you really is just one of the best things and adults will sure look like fools to get them to do it. I'm not ashamed. - finally reading 'The Girl With The Dragon Tatoo'. and loving it. and seeing the movie and loving that too!
- not remembering what it was like when we went by our actual names... now we are CeCe, LaLa (that's me), Mimi, and Papa and sometimes there aren't even kids around. Again, no shame. - sister hugs, mom hugs, dad hugs, Marley hugs and baby hugs. - watching your husband be a sweet uncle by playing 'night-night' so well he actually falls asleep. - 80 degree weather to ring in the new year.  Thank you Texas for some awesome December patio weather.
I'll be back with a little look back at 2011 and maybe a resolution or two for 2012!