Happy Font Friday! Today, I have a lovely script font for you. You can never own too many script fonts in my opinion...especially really goods ones.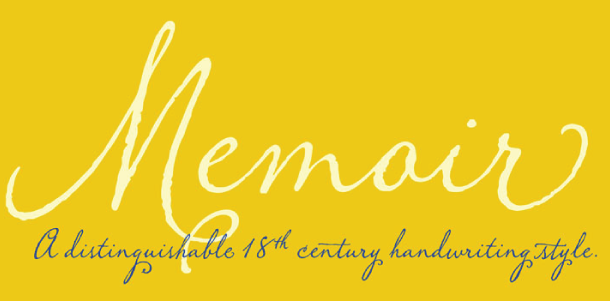 Memoir is inspired from 18th century handwriting. To me it is such a versatile font. It has an old world feel, but can definitely be more modern depending on where and how you use it. Did I mention the ligatures and swashes? There are plenty of those... because the best script fonts have plenty!
Memoir is now available at MyFonts.com and can be purchased right here.
For more font love, don't forget to check out the picks of my favorite font friends:
Alexandra & Craig from The Aerialist Press, Allison at Allison Owen Design, Anna from And Everything Nice, Jen from Blush Printables, Sophia and Andre at Brancoprata, Steph from Bubblerock, Cecile of Cecile Paper Lounge, Catherine at Design Editor,  Laurel at Go Against the Grain, Jenny from Hank + Hunt, Allie at Honey Bee Invites, Lauren from Lauren Elise Crafted, Jenna and Elizabeth from Little Bit Heart, Kerry from Super Swoon, Vicki from Vicki Designer and Wendy at Weswen Design (#fontfriday on twitter)